Honduran Nazarenes aid over 16,000 migrants
by
| 30 Nov 2022
Image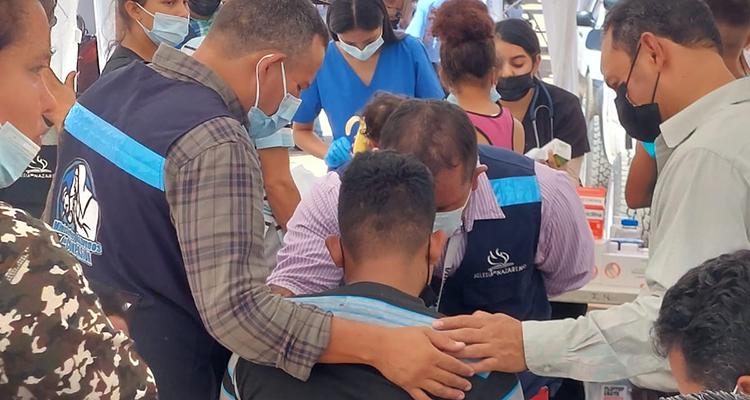 Through Nazarene Compassionate Ministries, the Church of the Nazarene is responding to the needs of thousands of migrants from different countries who are passing through Honduras.
According to Rexcenbrik Aguilar, NCM coordinator for the Central South East District, Nazarenes have cared for more than 16,000 people throughout the country, particularly in Trojes, Danli, and the capital, Tegucigalpa, for the last year.
Several churches have joined together, gathering food and water. The NCM teams from Honduras and the North Central Field provided free medical consultations, food, water, and other supplies. Moreover, they offered prayers and spiritual guidance.
"We have had the opportunity to pray with many people and to tell them about God's love for them," said Damaris Kellogg, NCM coordinator for the North Central Field. "Some have responded by giving their hearts to the Lord."
Wilfred, originally from Haiti, shared about the danger and the painful moments he experienced on his journey, including seeing several people lose their lives in the jungle. However, amid these tragedies, he also saw the hand of God taking care of his life, especially as he passed through Central America, where different organizations helped him.
He also said what he received from the Nazarenes was a great blessing because he felt his strength was renewed through the prayers.
"I had the opportunity to pray with him and to tell him about the promises of God," said Kellogg.
Families with older adults, children, and pregnant women have received the church's support.
Wilmaris, originally from Venezuela, is currently pregnant and explained that she left her country with her mother and other relatives. She expressed gratitude for the "excellent" medical attention she received along with prayers for her and the baby.
--Church of the Nazarene Mesoamerica Region