No Limits: Regional NMI conference inspires South America Nazarenes
by
| 16 Jul 2021
Image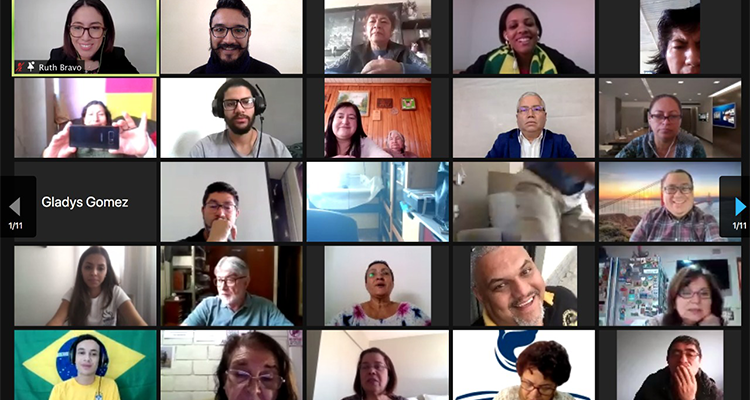 The South America Region hosted its first virtual regional missionary conference, Sin Límites: La iglesia no se detiene (No Limits: The Church does not stop) 9-10 July.
Sin Límites was a virtual event designed to fan the missionary flame across the region. Nearly 500 participants were registered, including mission leaders, pastors, superintendents, and laity involved in missions. 
The conference was held in two languages, Spanish and Portuguese, and the registrants joined from more than 12 countries. In addition, a team of more than 50 people offered their gifts and talents to organize the event, including speakers, moderators, translators, audiovisual producers, designers, community managers, and technical service. 
Sin Límites provided education, inspiration, and challenge through plenary sessions, workshops, testimonies, worship, and prayer. Each part of the program was intentionally created to promote mission awareness and present the new challenges that the Church faces today in global missions. The speakers were General Superintendent Gustavo Crocker, Global Missions Director Verne Ward, South America Regional Director Christian Sarmiento, and a special guest who has served in Creative Access Areas.
The regional Nazarene Missions International team, made up of the administrative team and the national coordinators in each country, together with Regional NMI Coordinator Ruth Bravo, thanked each person involved in the organization as well as the participants, who crossed technological barriers to connect to the virtual sessions offered.
"We ended each day with a time of prayer for the regions in the world and for ours," Bravo said. "It was special to open microphones and break down barriers of nationalities, cultures, languages to together as one body raise a cry to God for the nations of the earth. This is a new time for the church in South America. We are becoming a missionary force for the nations, and we believe that God wants to use each Nazarene to get involved and be part of it. Missions today face new challenges, but there are no limits for the missionary church!"