Remembering Edna Lochner
by
| 15 Apr 2021
Image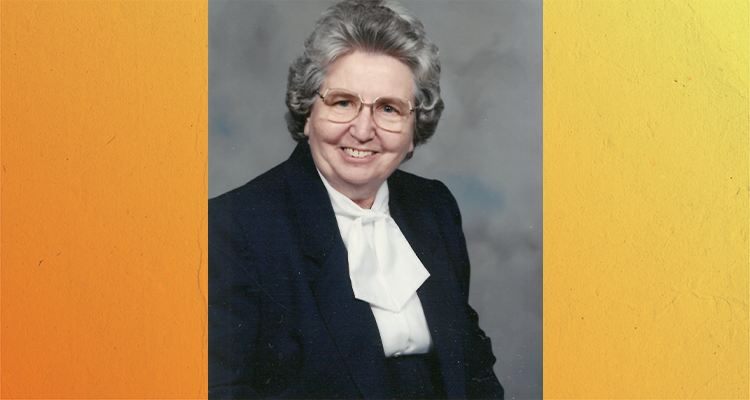 Edna Lochner, 96, of Freeport, Illinois, passed away 9 April 2021. She was a retired missionary who served in Eswatini for 38 years. 
Edna was born on August 18, 1924, in LaOtto, Indiana. She was the sixth child born to the late Ralph and Margaret (Freeman) Lochner.
At the age of seven, Edna accepted Christ as her Lord and Savior. After missionaries from Africa visited Edna's church, in the second grade she told a lady that she was going to be a missionary. The lady responded "Oh, Edna! The lions will eat you up!"
Edna's faith was her foundation, and she would not be shaken by these words. Even as a young adolescent, Edna knew she needed to go to college in order to be a missionary. Working in the school office and in the onion fields while still in high school, Edna saved her money so she could attend Olivet Nazarene College (now University). During her senior year, Edna became sick with scarlet fever, and she was required to be in bed for many hours. Her illness was a setback, but it did not keep her from her goal to be a missionary to Africa. 
After Olivet, Edna taught elementary school for three years. While teaching full time, Edna also attended Ball State College, earning a master's degree in administration in education. The International Church of the Nazarene Literature Department offered Edna a job working in their editorial section.
In 1952, Edna was turned down from going to Africa. Edna sought the Lord even more, and she says "the next six months were lived close to Jesus. He did not show me what He would do in the future, but He did show me what I should do day by day." At the end of six months, Edna was appointed to do missionary work in Eswatini (then Swaziland), Africa.
Edna faithfully served as a missionary for 38 years in Eswatini, serving as a teacher, a principal, a school grantee, and a literature director. In her autobiography, she recounts many times when her life was in danger and yet the Lord provided a way out and kept Edna safe. When she retired at the age of 66, Edna learned what nicknames the Swazi people had for her: Mentakahle, "one who does right," Maphikelela, "one who holds and does not give up," Umuntu Wabantu, "one who is a person of the people (one of them)."
In 1990, Edna retired to Fort Wayne, Indiana. Even in retirement, she continued to passionately provide Christian literature for Africa. In February 1991, with the help of her family, Edna founded Christian Literature for Africa Association (CLAA). Through many tests and trials, CLAA broke ground on its own building in 2004. Again God provided monetary donations as well as laborers for the physical building. Bibles and holiness literature have been delivered to 40 countries in Africa.
In 2010, Edna returned to Eswatini and was honored by the prime minister by holding a celebration for Edna with attendance by education leaders, former students, and co-workers. The dinner celebration was televised throughout the whole country of Eswatini. 
She was preceded in death by three brothers, Jacob "Jake," Francis "Basie," Irwin "Bub" Lochner, and six sisters, Ruth Roush, Mary Strong, Elsie Fahlsing, Geneive Fahlsing, Naoma Fogle, and Orrel Wiley.