Sowing Hope: Chile church supports community through kitchen ministry
by
| 02 Jun 2021
Image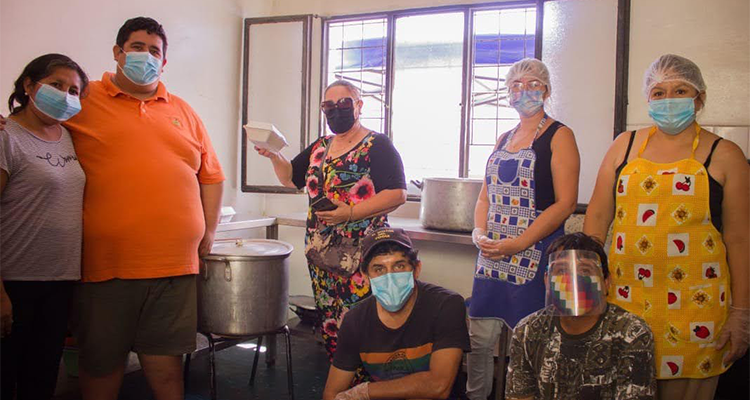 The compassionate ministry of Iglesia del Nazarene Juan Noé in Arica, led by Niza Alvarez, decided to start an open dining room called Sembrando Esperanza (Sowing Hope). Currently, they deliver around 140 breakfasts and lunches every weekend, with the goal of adding two more days in the week.
Alvarez and her team were inspired into action by the pandemic's effects on Chile's economy. 
"Some salaries have been reduced, and some people were left without work in addition to the large number of elderly adults with limited resources," Alvarez said.
The open dining room has been made possible by both the contributions of the local church and the donations of outsiders, who have been impacted and want to be part of this movement of love and hope.
"We continue faithfully every week," Alvarez said. "We also do campaigns called a 'Kilo of Love' where people bring food that is needed [for the dining room] such as rice, potatoes, noodles, and more. We also receive help from neighbors who see that we are giving food and want to support us."
This initiative has been added to other actions of love, such as the delivery of family food baskets and financial support, among others. The ministry has also been giving out about 25 baskets a month to church families in need.
"We have been blessed by our God," Alvarez said. "At the end of each day when we clean up, we all feel happy to have fulfilled and blessed others for one more day. There are no words to express what we feel inside."
Yesenia Pauca and her family moved to Chile and began attending the church before the pandemic started. They lost their jobs like many others did. She testified to the influence that Sembrando Esperanza had on her family.
"Sembrando Esperanza has been a great blessing for my family," Puenca said. "Since we are in difficult times, the help of the church and our pastor has been fundamental for people who are in need."