Venezuela church-type mission installs JESUS Film tent
by
| 07 Sep 2023
Image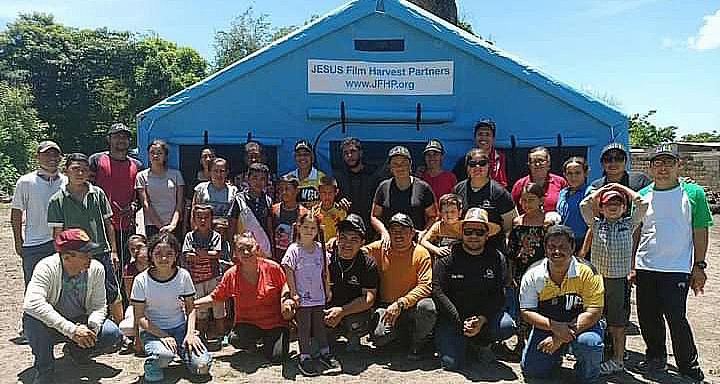 More than 30 leaders and lay people from the Venezuela Lago District met to contribute their time and labor to install the first JESUS Film tent in Venezuela for the Shalom Bayit congregation.
The Shalom Bayit church-type mission began as a house of blessing in 2015 under the direction of the Shalom Church of the Nazarene in Las Piedras, Perijá. A year later, Shalom Bayit bought a piece of land and began to do Sunday services. The work there has continued to grow to this day.
In 2023, Shalom Bayit received a blessing. Thanks to the efforts of the national Church Development Ministry under the leadership of Allan Díaz, it was possible to acquire the first tent donated by JESUS Film Harvest Partners so that the brothers could have a place to exalt and glorify the name of God.
The tent's installation was completed under the supervision of the district superintendent, Díaz, and Shalom pastors Williams and Neyla Corona. During this time, various activities were carried out, including prayer, praise, face painting, and sharing of the Word of God. In the afternoon, there was a time of passionate evangelism in the street that reached more than 60 people. Later that night, the JESUS film was projected inside the tent to formalize the installation.
"First of all, I thank God for this great blessing in our Shalom Bayt congregation, and I thank Pastor Williams and Pastor Neyla for remaining in the work of the Lord," said Elsa María Fernández, who is in charge of the mission. "May God bless the life of Allan Díaz for being the instrument used by God to touch hearts with giving hands as the group of donors partners in the harvest. We have achieved this through faith, prayer, and continuing to work in the work to conquer souls for the Lord."
Díaz hopes to continue building other tents for church-type missions around the country and to continue church-planting efforts in Venezuela.
"We thank God for this blessing as today Shalom Bayt can enjoy its own place to live together in harmony," Díaz said. 
--Church of the Nazarene South America