Portuguese woman shares gospel through miniature biblical recreations
by
| 17 Nov 2022
الصورة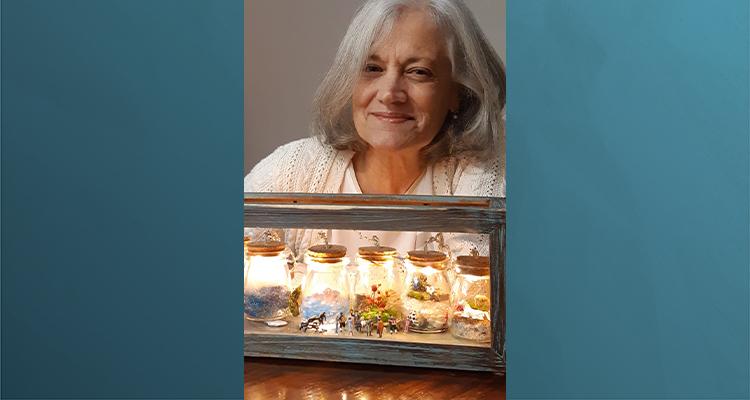 A Nazarene doctor in Portugal has built nearly 100 highly detailed miniature scenes from the Bible and hopes to create a museum around them eventually.
Alexandra Sousa Gil began building miniature Bible scenes during the pandemic to relax from her work stress and grow her faith in Christ.
Although Gil gave her life to Christ many years ago, at the invitation of a friend during the pandemic, she began attending the Church of the Nazarene in Cascais.
"When I entered, I found incredible the way of praying, and the fellowship was different," she said. "And little by little, I started to go more often. Every time my friend would go, I would go until I started going by myself. It was with the pandemic that I then found the Church of the Nazarene."
During the peak of the pandemic, the Portuguese government relaxed some rules to allow people to attend church services in person. Smaller churches with limited space asked members to sign up in advance to attend worship. Thanks to its large sanctuary, the Church of the Nazarene in Cascais accommodated many more people.
"This was very important for me," Gil said. "During my adolescent years, I lived in a country where churches were banned, and people could not worship together. Since then, it has been very important to me to be together to worship and be at a church."
Gil has always liked making handicrafts. Her faith is what inspires her artistry. So, when she volunteered to teach Sunday school, her intense Bible study led her to build miniature, three-dimension Bible scenes from the Old to the New Testament.
Building the dioramas was also a way to occupy sleepless nights, which she began struggling with some time in 2015.
"Initially, the first thought that came to my mind was that it was crazy that a woman with grown children would be doing something like this. But it was my way to relax and disconnect."
Her excitement around recreating these Bible scenes grew so much that even when she could have gone to sleep quickly, she stayed awake to design them.
Gil buys miniature pieces of furniture, characters, and plants. She creates the backgrounds by cutting up magazines or printing images and paintings. Some items she must make from scratch. For example, for David's harp, she used dental floss. To bring more light into the scenes, Gil also learned how to wire LED lights in the boxes.
"God helped every step of the way," she said. "Even in finding small props that now are part of a scene made a difference. The characters can be wearing sneakers or a hat, and this was because I wanted to bring the Bible to the modern days as it is still alive."
In July 2022, Gil held an exposition of her miniatures at the Nazarene church. Many visited and were able to see how these miniatures are made and learn more about the Bible.
So far, Gil has created 40 miniatures of the Old Testament and 50 miniatures of the New Testament. She also painted three cities that were part of Jesus' life: Bethlehem, Jerusalem, and Capernaum. In addition, Gil has built scenes that illustrate Jewish celebrations, for a total of 105 dioramas.
In the future, Gil is considering establishing a small Bible museum to have all the miniatures on permanent public display. She hopes this would bring the Bible to life for visitors and inspire people to put their own God-given talents into practice.
This article is an adapted version of a story originally published on the Eurasia Region website. To view the original in full, click here.