Brazil church ministers through ballet
by
| 05 Jan 2023
Image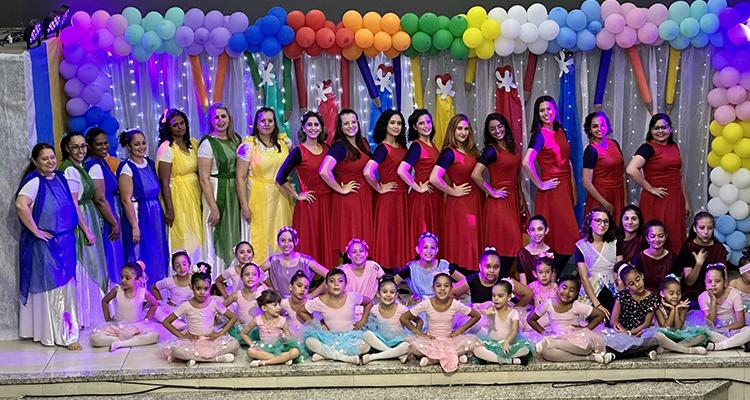 Igreja do Nazareno Semear celebrated its ninth ballet season in December of 2022 with a performance in Hortolândia in São Paulo, Brazil.
This project began in 2013 under the leadership of Pastor Érika Jaquelini Ribeiro Carvalho, wife of the lead pastor, Alberto de Matos Carvalho.
"It's been nine years of planting, and the harvest has come," Érika said. "Many families have come to know Jesus and join our congregation."
The Nazarene Ballet Project was born from the need to evangelize more effectively, according to Érika.
"We want to reach children through a physical and playful activity, adding the Word of God," she said.
Each year, a new biblical theme is incorporated into ballet lessons, and the yearly performance is based on that. This year's theme was "God Is Painting My Story," based on the song "Painter of the World."
"The song is based on Genesis 1, talking about God who created all things," Èrika said. "The message preached at this year's event had this focus, as well as the songs used in the individual group's performances."
One mother was moved by the performance of her daughter's ballet group, calling it a "dream."
"For me, it means the fulfillment of a dream," said Sue Ellen Cândido Araújo, mother of a dancer, Sarah. "Seeing my daughter doing ballet for free and at the level that she is helped her to develop posture and discipline. We are grateful to God for this project."
The project relies on the dedication and commitment of volunteers to teach classes. Children start at 4 years old, and during adolescence, they incorporate into Kairos, a dance corps of teenagers in the church. When they reach adulthood, they enter the Semear Ballet Company, the official ballet ministry of the church.
Every Saturday, classes occur in the church hall at 9 a.m. While the children participate in their course, the mothers participate in a devotional in the next room. Once a month, a prayer meeting for mothers is held.
After seeing their daughters perform, the mothers also became interested in taking dance classes. So, in 2017, the church created "Precious Ministries," a dance corps of mothers in the church.
"We thank God for the initiative of the pastors, Alberto and Érika, the volunteer teachers, and leaders of the prayer groups," a parent said.
--Church of the Nazarene South America