Celebration of Grace unites more than 65,000 Nazarenes
by
| 02 Jul 2021
Image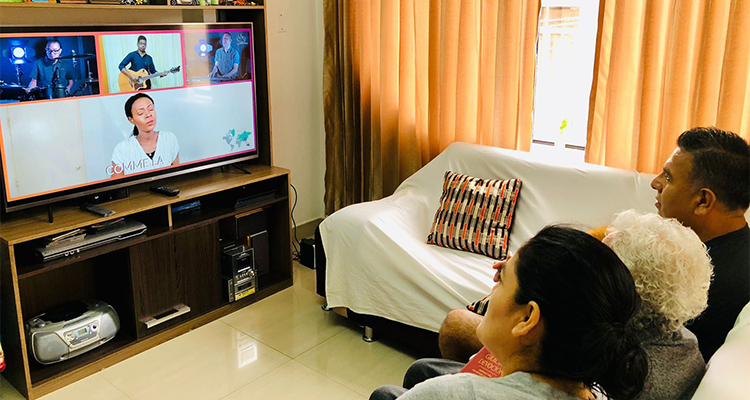 A Celebration of Grace, the denomination's second virtual service, brought together more than 65,000 Nazarenes from 111 countries 26-27 June 2021. The one-hour service was live-streamed on multiple platforms in the denomination's five main languages: English, Spanish, French, Portuguese, and Korean.
"On behalf of the Board of General Superintendents, I want to express our deep gratitude for the amazing talents of our Nazarene worship leaders from around the globe," said General Superintendent Fili Chambo. "The media team did an excellent job of producing a service that highlights our global identity and oneness in Christ. What a blessing it has been to read comments and posts of Nazarenes from all over the world expressing excitement and commitment to the message of full salvation."
Orquesta Infanto Juvenil, a youth orchestra from Ecuador's Sierra Centro District, opened the service with an instrumental version of "Amazing Grace." The service featured four songs in nine languages with more than 100 Nazarene singers and musicians.
"Praise God," wrote Dianalyn Quinoviva from the Philippines. "It's so overwhelming to see the beauty of worshipping together in music and in His word."
Each of the six general superintendents shared a message related to A Journey of Grace, the denominational discipleship initiative based on Jesus' words in John 14:6: "I am the way, the truth, and the life." 
"It has been awesome to walk through the Journey of Grace series at our local church, dive into Way, Truth, Life by Dr. David Busic, and now witness our global church family in a special online service entitled A Celebration of Grace," wrote Matt Gargiulo from Indiana, USA. "Thankful for my Church and God's amazing gift of grace!"
The sermons focused on the role of grace in believers' lives as they grow from no faith to new faith to mature faith.
"I am in tears because I realize the immense love of God in Christ for me by this beautiful service," said Patient Nawej.
The 24-hour live stream was available through Facebook Live and Church Online in addition to being available for download on Vimeo. Viewers were able to interact in the comment section of both streaming platforms, bringing together Nazarenes from all corners of the globe.
"Very good to see our brothers around the world," wrote Fernanda Demoraes from Brazil. "We are one people!"
The service coincided with the original dates for the 30th General Assembly, previously scheduled for 23 June – 2 July 2021. 
"Thank you for this service," wrote Amy from Oklahoma, USA. "My heart has been longing for General Assembly and this is such a blessing."
To view the full service in five languages or access the songs individually, click here.