Disaster relief work continues in the Philippines following Typhoon Odette
by
| 10 Mar 2022
Image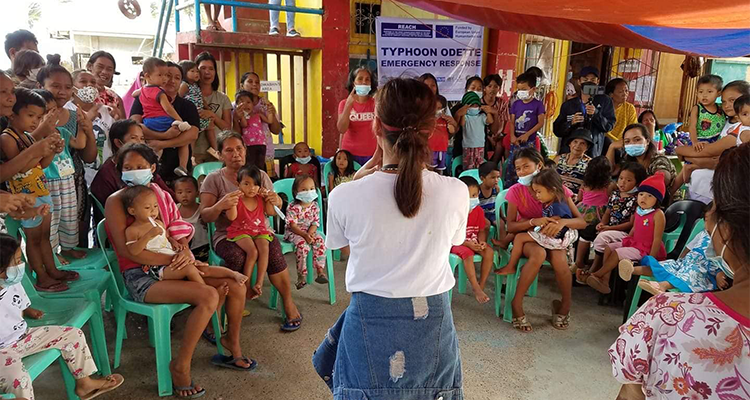 Two months have passed since Typhoon Odette devastated the Central Visayas region. Throughout this time, the local churches in the affected areas have continued to engage in different programs to serve the various urgent needs of the people.  
But in the midst of these, God is at work as churches unite to be the hands and feet of Jesus.
In St. Bernard, Southern Leyte, where Nazarene Compassionate Ministries (NCM) has a child development center, the local church's disaster response team distributed drinking water, solar lamps, shelter kits that include tarps, food, hygiene kits, and masks. Additionally, they installed water filters in five neighborhoods, ran feeding programs, conducted trauma counseling, and created child-friendly spaces.
On the island in Olango, Pastor Josefin Ano-os of the Solid Rock Church of the Nazarene found out that aside from the provision of material resources, the people were longing to be heard and prayed for. The church ministered to the community by listening to people's stories, praying for them, and extending comfort and encouragement.
In Loboc, Bohol, the church is thankful for the privilege to serve holistically. Despite being typhoon victims themselves, some volunteers chose to serve others who were also affected.
In Palawan, Pastor Jerson Lumahan appreciated the churches all over the Philippines and beyond for their generosity and for the opportunity for their local church to participate in this ministry and truly live out "compassion as a lifestyle."
Across the Visayas area, Child-Friendly Spaces (CFS) were created to help the children in the communities. In these safe spaces, children can share their stories and process trauma even as their spirits can be lifted through songs and games. Here, they also receive essential items like food and hygiene kits.
While the relief work continues in these disaster response areas, NCM Philippines and local disaster response teams are planning the next steps and strategies for long-term rehabilitation needs. The teams see their efforts as tangible expressions of God's love.
"We are thankful to our churches for being an active participant of what God is already doing in this broken world. And through God's grace, we can be agents of transformation as we live out Christlikeness," said Leody Tan Echavez, NCM Philippines coordinator.
Pray for:
The relief and rehabilitation work in the affected areas.
Spiritual and physical strength for the pastors and local disaster response teams.
Provision of resources for the ongoing needs in the affected communities.
To partner with the Typhoon Odette Response, you can give to NCM-Global Emergency Relief Fund.