Eastern Nazarene College announces new president
by | 19 Nov 2018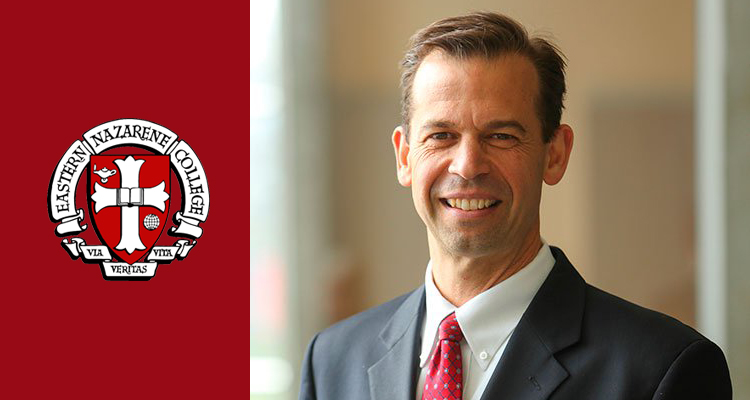 Russell Long, chairman of the Board of Trustees for Eastern Nazarene College, announced today that Jack Connell will be the 14th president of the Christian liberal arts college, founded 118 years ago in Saratoga Springs, New York. Connell's election is the culmination of an exhaustive, national search conducted by a committee of trustees, faculty, and staff of the college that attracted a talented and competitive pool of candidates. Connell's distinguished career in Christian higher education and ministry as well as his vision for the future of the college resonated with the committee in a profound and inspiring way.
"It is the Board of Trustees' belief that under Dr. Connell's leadership, ENC will be well positioned for future growth as it celebrates 100 years of academic excellence and a rich legacy of leadership and service at its current Quincy campus," Long said. "We have made prayer a priority during the search for our next president, and frequently we have been reminded that God has been working behind the scenes. While we were searching, God was preparing Dr. Connell for this assignment. A former president of Roberts Wesleyan made the comment that he believed God had saved Jack for this assignment. We feel that confirmation as well in that he is uniquely prepared for the multiple challenges we face."
Connell joins ENC from Houghton College in Houghton, New York, where he has served as provost and dean of the faculty since 2016. Leading over 100 faculty and staff members, Connell serves as the chief academic officer and chief enrollment officer on the president's leadership team. He has been instrumental in the development of new academic programs, the growth of Houghton Online, and the launch of new extension site programs. From 2008 to 2016, he spearheaded major initiatives in enrollment, advancement, and strategic planning at Roberts Wesleyan College & Northeastern Seminary (RWC) in Rochester, New York, as an executive vice president. Among his many accomplishments at RWC, Connell led the largest comprehensive fundraising campaign in the college's history, a campaign that raised more than $40 million for scholarships, endowment, and capital projects.
In addition to his credentials in higher education, Connell served as a senior pastor of the Crosswinds Wesleyan Church in Canandaigua, New York, from 1995 to 2006 and the Lyncourt Wesleyan Church in Syracuse, New York, from 1989 to 1994. Under his spiritual guidance, the Crosswinds congregation became one of the largest churches in the denomination with average weekend attendance growing from 200 to 1,400. His educational background includes a Doctor of Education in higher education leadership from the University of Rochester Warner School of Education; a Doctor of Ministry in leadership and biblical preaching and a Master of Divinity from the Asbury Theological Seminary in Wilmore, KY; and a Bachelor of Science in business administration from Houghton College. Connell has served on numerous boards, including 13 years as a member of the Houghton College Board of Trustees. With two doctoral degrees, executive-level experience with Christian colleges and theological seminaries, leadership and strategic planning skills, pastoral and teaching experience, and boundless passion for the transformative mission of Christian higher education, Connell is uniquely qualified to assume his new responsibilities with ENC.
"My heart has been captured by the mission of ENC, and I am deeply honored to be selected by the Board of Trustees as ENC's next president," Connell said. "I believe there are amazing opportunities in front of us, and I look forward to engaging with the entire community as we move boldly and hopefully into a bright future. Wendy and I look forward to moving to the Quincy area next summer and ask for your prayers in this time of transition for us all."
Connell currently resides in Houghton, New York, with his wife, Wendy, a special education teacher. They have four adult children, David, Rebekah, Jonathan, and Michael. He will begin to assume leadership of ENC immediately as president-elect and will transition more fully into his new role over the next several months as he transfers his current duties to new leadership at Houghton College.