Graves challenges assembly to worship with 'reckless love'
by
| 11 Jun 2023
Image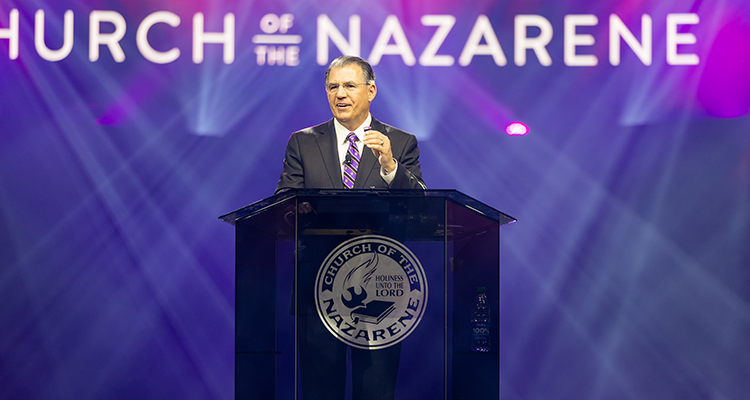 Nazarenes from around the world gathered for Sunday morning worship at the Indiana Convention Center. General Superintendent David Graves preached a message titled "Reckless Worship" to more than 11,500 people in attendance physically and over 3,000 via live stream.
"The only thing we can do is respond to His love," Graves said. "And how do we respond? We respond with our love, we respond with our worship because He first loved us."
After a time of worship led by a worship team, choir, and orchestra, including a rendition of "Holiness Unto the Lord," Asia-Pacific Regional Director Mark Louw led the congregation in a time of prayer.
Graves, who is retiring after this General Assembly, started off by reading John 12:1-8 about Mary breaking open the most expensive nard and pouring it on the feet of Jesus. The passage served as an illustration of the reckless things people do in the name of love. 
"This action of Mary, this act of worship, this act of impracticality, is really the smell of reckless love that she had for her Lord," Graves said. 
He pointed out that she had reason to love Jesus because she "knew the difference between the smell of death and disappointment and the smell of love" because of what Jesus had done for her brother, Lazarus.
"Her action, her worship, it's about giving," Graves said. "It's about honoring, it's about loving Jesus, and she's not seeking anything in return." 
It is that type of love with which Graves encouraged the congregation to worship God.
"Let's join Mary in pouring out our worship to God," Graves said. "Understand that the reckless, passionate, priceless, extravagant fragrance that He wants to receive today is your love, your adoration, and your surrender to Him."
The service ended in a time of Communion as the church came together as one to confess that Christ has died, Christ has risen, and Christ will come again.