Honduras youth leader steps up to help community in crisis
by
| 06 Aug 2021
Image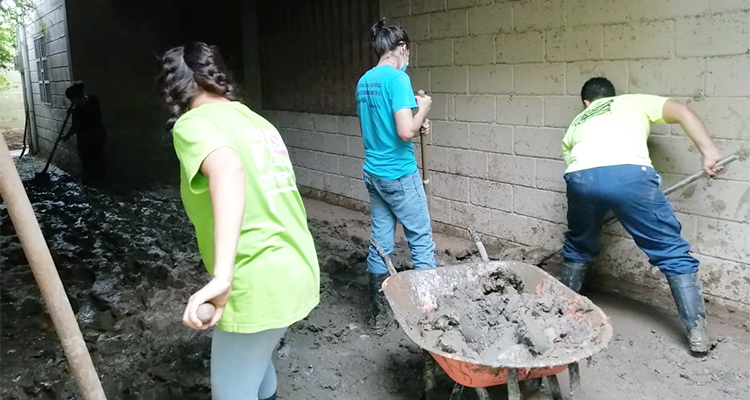 Emmanuel Guerrero has been a leader in his community of San Pedro Sula, Honduras, since he was an adolescent. As he got older, he began to feel a call to missions and was set to be a part of the Genesis program, a missionary program for young adults on the Mesoamerica Region. 
Those plans changed during his final semester of college when his university didn't have the means to pivot to online instruction during the COVID-19 pandemic. The inability to finish his degree meant he could not go abroad with the Genesis program.
Then in late 2020, Honduras was slammed by hurricanes Eta and Iota. Nearly 100 people died and 175,000 were displaced. Guerrero's home in the Sula Valley was one of the areas most affected.
Genesis Coordinators Scott and Emily Armstrong reached out to make sure Guerrero was safe and learned that he was living with nearly 45 other people inside the school building near Iglesia del Nazareno Central in San Pedro Sula. At the same time, they had been gearing up for Misión Sin Límites, a regionally coordinated missions effort for churches to engage with their local communities.
"If I can't finish my semester, if I can't be sent overseas, I'm just going to do it right here," Guerrero told Armstrong. 
Guerrero became a site coordinator for the project, and he and his team talked with local leaders to identify needs in the surrounding communities. While some homes had been destroyed, the homes that were still standing were filled with anywhere from 75 to 100 pounds of mud. Guerrero and his team got to work, waking up at the crack of dawn and working until sun-down to clear mud out of homes for a week.
At the end of the week, an exhausted Guerrero joined a Zoom service where all the Misión Sin Límites teams planned to share what happened in their communities. Guerrero was set to lead worship, and in the background was his team caked in mud along with the community members who came to worship with them.
Guerrero and his team made a deep impact in the communities they aided. One woman told them, "We've heard a lot of talk about God from Evangelical Christians in the past, but this is the first time we've seen the hands and feet of God."
Many families from the community came to know Christ through the work that Guerrero and his team did. The church has maintained contact with them, and the families have been joining the church's online services and stayed in contact through WhatsApp. 
"The work accomplished during Misión Sin Límites wasn't just an activity of a few days; it was a model for mobilizing the entire district," said Sara Arteaga, one of the leaders of the San Pedro Sula team.