Nazarenes in the News: September 2020
by
| 25 Sep 2020
Image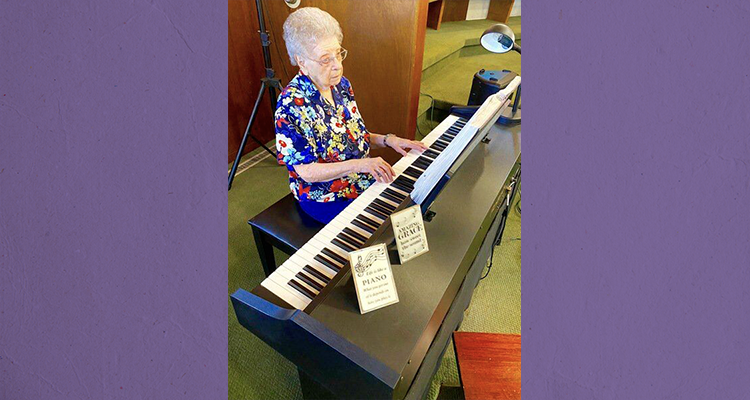 Nazarenes in the News is a compilation of online news articles featuring Nazarene churches or church members.
Oklahoma pianist retires after 84 years at the keyboard
Enid, Oklahoma
(Enid News & Eagle, 6 September 2020)
For many people nothing brings passion to worship more than music, and one Enid woman has been helping others worship God through music for more than eight decades.
Euelene Floyd, who turned 97 on Aug. 15, retired from music ministry as the pianist at Enid Maine Church of the Nazarene, 1517 E. Maine, at the church's service on Aug. 30, ending a music ministry of 84 years.
Floyd said her passion for music started early at home.
"I just love it," Floyd said of playing the piano. "I've always done it. I started out as just a kid."
To read the rest of the story, click here.
Iowa church donates 5,000 pounds of food
Marshalltown, Iowa
(Times-Republican, 14 September 2020) The Marshalltown Church of the Nazarene helped give out 5,000 pounds of food and supplies Saturday. 
Organizations from Des Moines shipped the food and supplies to help Marshalltown residents who lost a portion of their pantry in the Aug. 10 derecho. The derecho left a lot of Marshalltown residents with food insecurity because of the loss of power. Many were without electricity for a week and half.
"We definitely couldn't do it without the church folks today," John Witmer, Marshalltown Church of the Nazarene lead pastor said. "We didn't know what to expect and we're still thankful that other churches and agencies have been jumping in."
For the rest of the story, click here.
Kansas church partners with farms to donate food to community
Manhattan, Kansas
(WIBW, 17 September 2020) More than 100 boxes of fresh produce were given away in the Farmers to Families Produce giveaway Wednesday in Manhattan.
Manhattan Church of the Nazarene partnered with A & H Farms in Manhattan to distribute the boxes of produce to community members, no questions asked.
The partnership was new this year, but seeing a need to fill church members were happy to help get healthy food to community members in need.
For the rest of the story, click here.
Stories to share? Send them to news@nazarene.org
--Compiled by Nazarene News