Nazarenes respond to migratory crisis in Honduras
by
| 29 Apr 2021
Image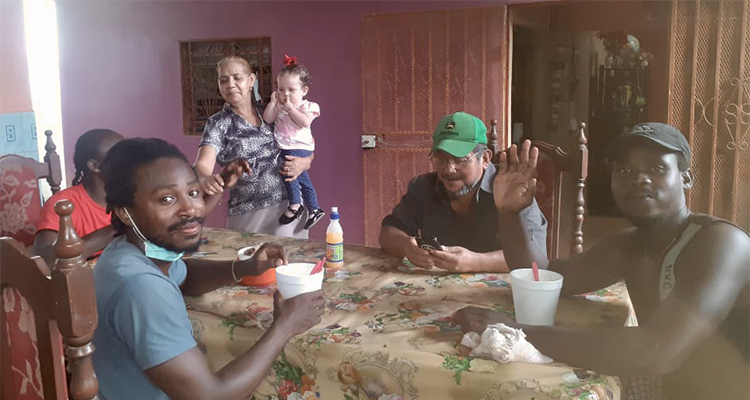 Massive migratory caravans are frequent on the Mesoamerica North Central Field, which includes Guatemala, El Salvador, Nicaragua, and Honduras. Dámaris Kellogg, field NCM coordinator, says that in the last four years, approximately 20,000 people have passed through this area. 
"The Church of the Nazarene has been like a beacon for many of these people," Kellogg said.
Local churches are providing food, clothing, shoes, medicine, or a place to spend the night. In addition, the church has also offered words of hope with the message of salvation.
The NCM Honduras team and its district coordinator, Rexcenbrik Aguilar, have mobilized to respond to those who are in transit. They prepared and delivered 250 emergency kits with hygiene and health and safety items, and 500 more are ready to be delivered in the next few days.
The Church of the Nazarene opened buildings in Trojes and El Paraíso, providing food and a place to sleep. In Trojes, they have housed 115 families and 12 families in El Paraíso.
"What a blessing it has been to see the images of people from our church sharing a plate of food with foreign people," Kellogg said.
A group of about 800 people from Haiti recently arrived in southern Honduras. Pastor Mercedes Carranza from the Church of the Nazarene in Trojes, along with pastors from 12 other Christian churches, organized to host various people in their buildings.
Saúl, one of the Haitians, said that they found "good people" in Trojes who showed them love and who have helped them with their needs. He explained that most in the group came from Chile and have had a very difficult journey filled with painful experiences that are difficult to share.
Regional and Honduras NCM leaders have met to carry out a comprehensive response plan for the migrants. The meeting included superintendents from Honduras and Guatemala, local NCM pastors and leaders, an agent from the Honduran Ministry of Migration, and the NCM regional coordinator, Dhariana Balbuena. 
"We see their suffering, and we also see how other people take advantage of them and hurt them," Kellogg said. "Saúl's testimony helped us better understand his physical, moral, and spiritual needs. We learned that apart from their physical needs, it is very important to provide them with the legal information they need for a safe transition. "
The superintendents of two districts in the border area between Guatemala and Honduras are also helping many of the migrants with food or lodging.
Regional NCM leaders have planned to conduct a series of trainings for church leaders so they can support those in need who pass through their streets and communities.
"Let us pray for these people, for their safety in the journey and wisdom for them," Kellogg said. "Let us pray for the churches that provide support and for the resources that are necessary to meet the needs."