NILI students help build chapel, remodel buildings at South America seminary
by
| 11 May 2022
Image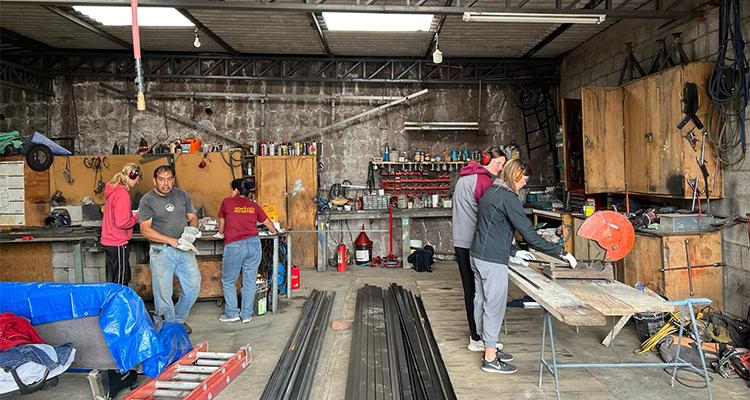 Students from the Nazarene International Language Institute (NILI) program joined the work of building chapels and remodeling buildings at the Nazarene Theological Seminary of South America (STNS) on 20 April 2022.
NILI is a Spanish language learning program in Ecuador, which enables students from foreign universities to spend 9-15 weeks studying the language intensively. In addition to Spanish classes, NILI offers its students a series of trips in Ecuador, helping them learn about the culture and explore the country. Students also get to participate in ministry projects while pursuing their studies.
One of these ministry opportunities took place when five students from Olivet Nazarene University, along with the director of the program, Lucy Olivo, presented at the Work & Witness workshop on the STNS campus. Olivo, the students, the missionary families, and workers from the campus joined forces in the construction of a portable chapel that will be installed in Macas, Ecuador.
"The portable chapels help advance the district's church planting efforts," said missionary Angel Sigui, who serves as the Work & Witness coordinator for the North Andean Field. "We thank the NILI students and their director for their help, as they arrived at the right time."
Although the students did not have experience in construction, they were motivated to learn the different tasks assigned to them. Some helped to bend metal sheets for the walls of the chapel while others measured and cut metal to make grids for the windows of the chapel.
"God only knows how many people will come to hear the life-changing message of the gospel in this chapel once it is built," Sigui said. "The collaboration of the students of the NILI program brings us closer to the completion of the chapel." 
Abby Bennett, one of the students in the NILI program, said that working on the team was special to her because it was something that she and her father used to do at home.
"I know that the Lord uses the work of our hands and molds us in the process," Bennett said.  "So I am always willing to serve Him and am grateful for the opportunity to do so."
Field Strategy Coordinator Geraldo Nunes expressed his gratitude to the NILI students.
"What a special day," Nunes said. "Thank you girls and managers for being part of this vision."