Colleen Derr elected president of Eastern Nazarene College
by
| 30 Mar 2023
Image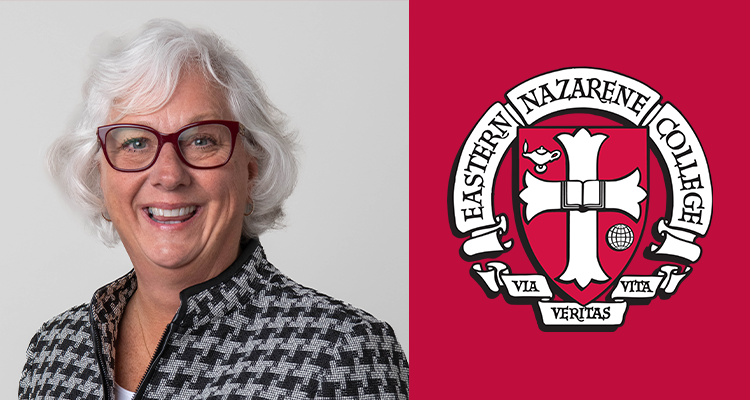 The Eastern Nazarene College Board of Trustees announces the appointment of Colleen Derr as the school's 15th president. She succeeds Jack Connell, who announced he will resign at the completion of this term and academic year. ENC partnered with CarterBaldwin Executive Search in the nationwide search that led to Derr's selection.
"Derr is the right person at the right time," said ENC Board Chair Melody Eckardt. "We are delighted that the intentional, broad, and prayer-rooted search process has yielded a person with such high character, deep and wide skills, spiritual maturity, and academic excellence who seeks to lead with grace, truth, clarity, and kindness," 
Derr currently serves as president of Wesley Seminary. Under her leadership, the seminary has become an innovative, transformational, and globally accessible institution that equips Christian leaders to engage in missional ministry locally and globally. 
Her many contributions to the seminary's success include an accelerated growth in enrollment, diversity, and program offerings, as well as the creation of a comprehensive communications and advancement team that led to an impressive increase in fundraising and secured grants. Derr's legacy will also include her leadership in the seminary, being named the "official" seminary of The Wesleyan Church Discipline.
Wesley Seminary is embedded at Indiana Wesleyan University, where President Derr serves on the university's executive cabinet. In addition to her administrative responsibilities, Derr teaches courses in congregational formation, transformational teaching, and spiritual formation, as well as children, youth, and family ministry. 
She is also an ordained minister, who previously served at The Wesleyan Church's denominational headquarters as director of Children's Ministry. She has been involved in local church Christian education for more than 30 years and has taught in public and private schools.
"It is with great excitement and joy that I look forward to joining the family of Eastern Nazarene College," Derr said. "The Lord has blessed ENC with over a century of service through Christian higher education in a location rich in history and cultural diversity. I am honored to steward ENC's mission into the future, to link arms with the church, and come alongside the dedicated faculty and staff as together we realize the vision of providing transformational education that equips students to lead and serve our world as agents of Christ's love and truth."
A native of Bethlehem, Pennsylvania, Derr has a Bachelor of Science in Christian education from United Wesleyan College, a Master of Arts in ministry leadership from Indiana Wesleyan University, and a Doctorate of Education in Christian education leadership from Regent University. Her dissertation, "John Wesley and the Faith Formation of Children: Insights for the Church," was published by Emmett Press. Additional published works include Renewing Communication: Spirit-Shaped Approaches for Children, Youth, and Families; a children's catechism program, Building Faith Kids; a preteen discipleship tool, Explore; as well as a host of articles and training materials for local church ministry leaders.
--Eastern Nazarene College