Nazarenes raise funds for Lebanon school in annual jog-a-thon
by
| 02 Jul 2020
画像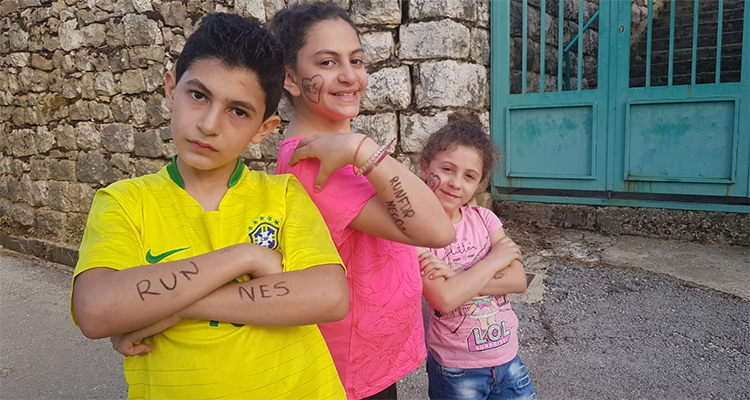 More than 100 people in Germany, Spain, Lebanon, and the United States walked, ran, or jogged (and one person cycled) in an annual jog-a-thon that has so far raised more than 8,000 euro for Nazarene Evangelical School (NES) in Beirut, Lebanon.
The event is organized by Nazarene churches in Germany in cooperation with Helping Hands e.V., a nonprofit organization in Germany that is founded and operated by Nazarenes. The event is usually held as large events in several German cities. Instead of canceling, organizers decided to open the event to anyone, anywhere, who was willing to participate and find sponsors.
This was the first year since the jog-a-thon tradition began in 1986 for organizers to invite people from the sponsored project itself to participate in the fundraiser.
NES embraced the idea and promoted it heavily on its Facebook page. Sixty-eight joggers in Lebanon secured sponsors in Lebanon and Germany; the sponsors each pledged a certain amount to the project for each kilometer their participant ran or walked.
Among the joggers in Lebanon were 21 current students, 14 teachers and administrators, and both the current and former school principals. The NES students, in particular, were enthusiastic about the idea of running together for their school.
"May I do flips and cartwheels, too? Does that count?" asked a student. After being told how a jog-a-thon works, he proudly ran eight kilometers—and ended with a somersault for the school.
For staff and students of NES, the event was about more than raising money to help fund needed renovations for their school. It was about helping to strengthen bonds of international friendship and improving morale by sharing a sense of love and care across many miles.
"With the recent jog-a-thon event, teachers, students, and parents also learned that we have good friends in Germany who are trying their best to help NES," said NES Principal Mshantaf. "The jog-a-thon has helped lift our mood and has given us hope in the future. God used this event to remind us again of His care for this ministry. In more than one way, we continue to be Jesus' presence for the kids in Beirut because you are Jesus' presence in Germany."
NES provides education to more than 230 students, from kindergarten age through grade 9. Many of the students are refugees. The school suspended classes when stay-at-home orders began and, like many schools, provided home-based learning for students until the school year's close.
"[The jogathon] was great from a psychological side and physical side," wrote a teacher who preferred to remain anonymous. "Our minds weren't on all the problems around us but on the good cause that we jogged for."
The runners in Germany were also enthusiastic about it, despite the changed format that was well received in this exceptional situation.
"The Joggathon 2020 exceeded our expectations in many ways, Simon Bangert, chairman of Helping Hands. "Be it the strong commitment of the runners in Germany and Lebanon or the generosity of the sponsors, we are thankful that we were able to move so many people. Thank you."
This article was previously published in the June 2020 edition of Where Worlds Meet.