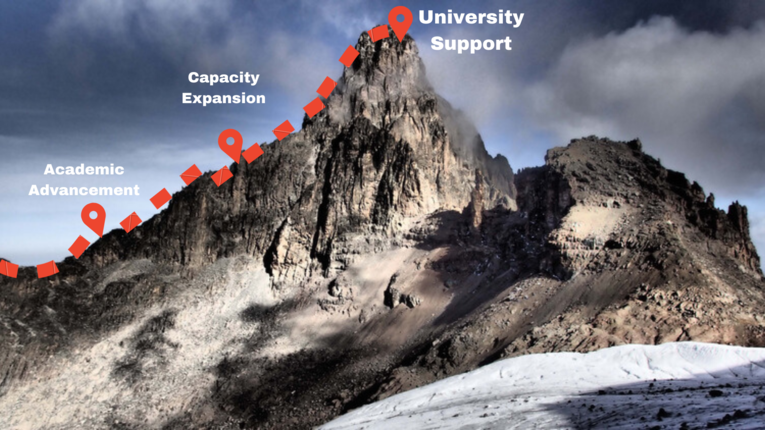 ANU - Reaching the Summit Together - University Support
Giving Code: 135228
Region: Africa
Area: Africa
COST (USD$): 412,660
Description:
Reaching the Summit Together – Kilele Pamoja Campaign
University Support
Through this new campaign, Africa Nazarene University is focusing on three initiatives that will prepare us to reach the summit of the uncharted world of university education in which we find ourselves.  "Kilele Pamoja" means "we are together at the top" in Swahili, and shows our committment to succeeding together. The three initiatives of our campaign are: 1-Academic Advancement, 2-Capacity Expansion and 3-University Support.
The third initiative, university support, recognizes that reaching our goal will require the right tools, equipment and training for each student to master the new learning environment of online classes. Completing this initiative will allow students from around the world to join and participate with lectures in real-time or watch recorded lectures at a later date. 
University support means:
Access to reliable internet and wi-fi connection to seamlessly attend classes in person or from afar
Trained Lecturers to Navigate this new avenue of teaching
Laptops and headsets for each student
Will you partner with us by praying for these initiatives and by giving as the Lord lays on your heart? Your contribution will help ANU assure its future and navigate the unknown landscape we find ourselves in today. We can make it to the top if we go together…"Kilele Pamoja."
For more information, please visit our
campaign website
or contact ANU's Advancement team at RNorth@anu.ac.ke.
Make A Donation




WYSIWYG Content
Donate by Check:
In the US:
Make checks payable to General Treasurer and send them to:
Global Treasury Services
Church of the Nazarene
P.O. Box 843116
Kansas City, MO 64184-3116
In Canada:
Make Checks payable Church of the Nazarene Canada and send them to:
Church of the Nazarene Canada
3657 Ponytrail Drive
Mississauga, Ontario L4X 1W5.
Be sure to put 135228 in the Memo area. Thanks for your donation.