Celebrating the life of Dorothy Diehl
by
| 03 Sep 2021
Image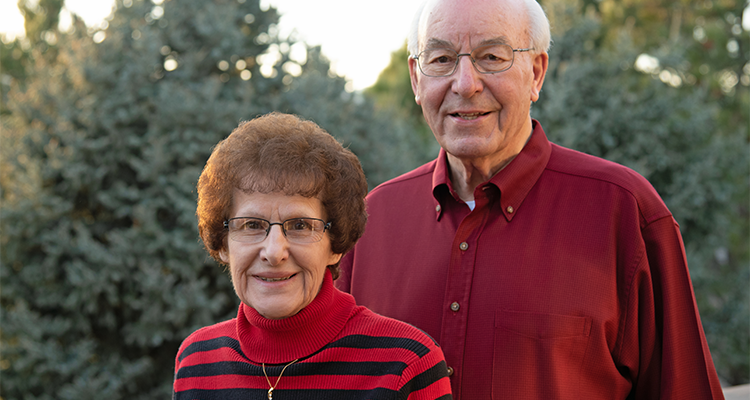 Dorothy Diehl, 85, of Lakewood, Colorado, passed away 30 August 2021, surrounded by her husband of 65 years and immediate family, after battling dementia. She is the wife of General Superintendent Emeritus Jim Diehl.
Dorothy was born on 9 July 1936 in Chicago Heights, IL, to the Parkison family. They lived in a small, humble apartment above a bar, and Dorothy was the ninth among 11 children. Dorothy's mom died when she was 9, and her father became very ill and could not care for the children. The local pastor and his wife, Clyde and Gladys Stanley, from the Chicago Heights Church of the Nazarene, took Dorothy into their home.
After the death of her birth parents, Dorothy didn't have much contact with her older siblings. When the Stanleys moved to Des Moines, Iowa, to pastor the Nazarene congregation there, Dorothy attended North High School, graduating in 1955.
James H. Diehl, of Des Moines, Iowa, became Dorothy's high-school sweetheart. They married in 1956 and moved to Kankakee, Illinois, to attend Olivet Nazarene College (now University). She began her career at St. Mary's Hospital in the administrative offices and later began caring for children in her home. Dorothy later became a "work-at-home" mom while Jim began fulfilling his calling to become a preacher in the Church of the Nazarene.
The Diehls pastored five growing churches, served in the administration at MidAmerica Nazarene University, and led as District Superintendent to the Nebraska and Colorado Districts. During Jim's assignment as a General Superintendent in the Church of the Nazarene, Dorothy traveled with him around the globe. Although Dorothy would say that "Jim was the minister," she had her own ministry impact in every place they served. 
She offered hospitality, friendship, and prayer support to pastor's wives, staff members, and many women wherever they served. She had a special concern for women walking through or recovering from abuse and trauma. Dorothy used her first-hand experiences of how God could redeem the pain of abuse, depression, abandonment, and loneliness to encourage and strengthen women around the world. She also loved sharing her experiences with her sweetheart, no matter if it was a brief trip to Estes Park or their mountain cabin, seeing family in Iowa, or going back to the Amana Colonies in Iowa. Their travels as church leaders opened doors to see many amazing sites in the world, meet precious people from every continent, and witness God's miracles.  
One of Dorothy's main goals in life was to provide for those she loved. She grew up after the Great Depression and was always compelled to save and hide items, including food, for a "rainy day." She was very generous, especially with her children and grandchildren, and always insisted on sharing cash from the secret pouch in her purse or sending you home with leftovers after a family meal. If anyone was hurting, she would encourage the person with acts of kindness, which often included a pan of her homemade cinnamon rolls. 
Dorothy is preceded in death by her son Dave Diehl, who passed away in 2008. She is survived by her husband, Jim Diehl; sons, Jim Jr., and Don Diehl; daughter, Jodi Gitt; seven grandchildren, and 10 great-grandchildren. 
A service celebrating her life will be held at 10 am MST on Saturday, 4 September at Denver First Church of the Nazarene, in Denver, Colorado. A live stream of the service will be available at denverfirstchurch.com.