Church of the Nazarene celebrates 40 years in Venezuela
by
| 08 Dec 2022
Image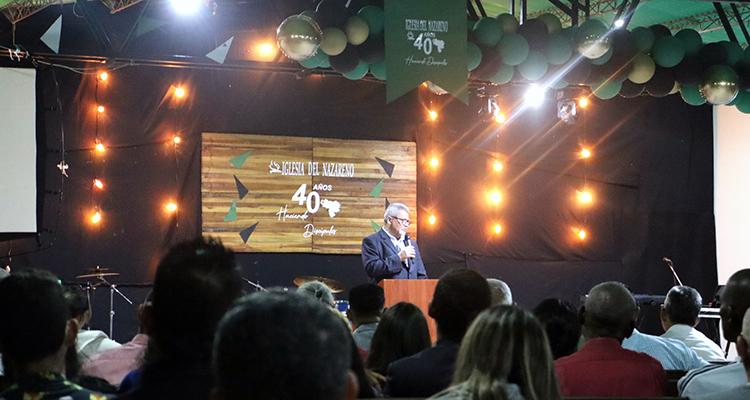 The Church of the Nazarene in Venezuela celebrated 40 years of ministry in October. Nazarenes from different parts of the country met, forming a representation of the five districts in the nation to celebrate its progress.
The celebration was held at Jiraquito Camp, a place that has an indelible mark on each heart of the Venezuelan Nazarenes. Many who came as visitors have been struck by the beauty of the location and blessed by how the presence of God has flooded the facility.
"I feel as if it were a reunion, grateful to meet again with friends who have been there serving faithfully since the beginning of the church," said pastor Frank Perdomo.
During the time of celebration, the memory of the Porter family was honored. The Porters were the missionaries used as an instrument of grace to found the church in Venezuela. They also paid tribute to other missionaries who served with passion and dedication for many years, including missionaries Zickefooses, Fischer, Armstrongs, Cintrons, and Hoskins, among others.
In addition, Venezuelan superintendents, pastors, leaders and missionaries currently serving inside and outside of Venezuela were deeply appreciated.
Likewise, field strategy coordinator for the North Andean field, Geraldo Nunes, and the comprehensive coordinator of ministries for Ecuador, Esdras Jimenez, visited the camp. Jimenez also shared the Word of God.
Finally, the Church of the Nazarene in Venezuela declared that Jesus Christ is Lord.
"While times change and leadership is renewed, God is still God, the One who sustained the Church for 40 years and will continue to do so," Nunes said. "The Church of the Nazarene in Venezuela is still (in the) present."
--Church of the Nazarene South America