German classes, Arabic Bible study reach unchurched in Jerusalem
by | 17 May 2019
Image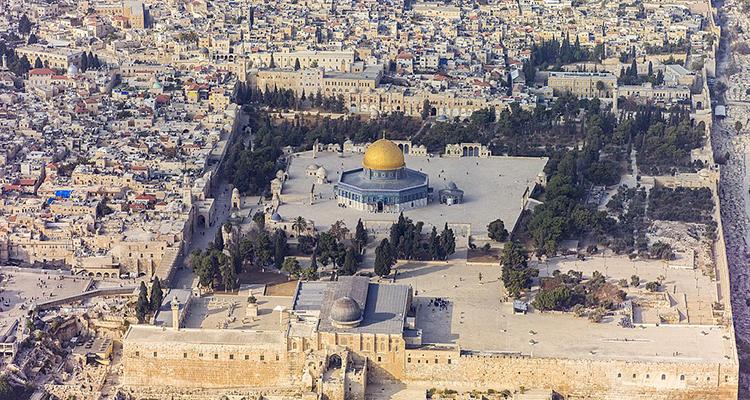 Photo by Andrew Shiva, used under CC BY-SA 4.0, cropped from original
When Annabelle Twal moved with her family from Switzerland to Jerusalem, Israel, in 2014, she did not think that God would make use of her fluency in German to help start a new work.
After they arrived, Annabelle and her husband, Shahade, took leadership of the Jerusalem Church of the Nazarene. The church was a diverse English-speaking group made up of ex-pats from around the world, as well as some local Christians fluent in English.
Two of the Twals' three daughters attend a German school, where the students learn German as a second language. Most speak Arabic as their first language, but none of the other parents speak German, so they are unable to help their children at home with their schoolwork. When some of the parents realized Annabelle was fluent in German, they began to ask if she would tutor their children.
There were 28 children in her daughter's class, so Annabelle did not have enough time to spend with each of them individually.
At the same time, a few of the parents who only attended church service twice a year asked Shahade if he would organize a Bible study in Arabic. They were not receiving faith teaching or discipleship in their traditional Christian churches, and they were hungry to know God.
The Twals' decided to combine the requests into one weekly gathering.
In October, the they launched a weekly two-hour German class for the children in one area of the church while the parents met in another area to study the Bible, pray, and sing simple Arabic worship songs. 
Approximately 10 to 14 girls from 1st through 3rd grade participate in the German classes. Annabelle tutors the girls on things they learned at school that week and helps them prepare for upcoming exams.
Another woman assists Annabelle in the classes. She is also from Switzerland and is fluent in Arabic as well as German. They divide the class into two groups so they can give the girls more individual attention. The class activities emphasize spoken language since the school focuses mainly on reading and writing.
Each week, the activities include prayer, games, worksheets, simple worship songs, and a Bible lesson in German.
The other volunteer translates the Bible lesson into Arabic from German, so the spiritual teachings are not lost on any girls who are struggling to keep up with the German language.
The Twals quickly realized that the 12 adults who attend — although traditionally Christian — had never learned even the basics of Christian faith or biblical knowledge.
"On our first Bible study, Shahade saw that this was their first time in an evangelical church," Annabelle said. "So, we started learning songs with them, teaching them how to pray, teaching them about the Bible — how to open it and look for the different books in it. We had to start with the very basic things with them."
Trying to pick a place to start studying in the Bible can be overwhelming, so the Twals decided to start at the beginning.
"Some of them have never heard or read the story of creation," Annabelle said. "So Shahade started with that, and then moved on to the first sin. After that, he shared with them why did we need Christ to come. He also started to explain to them who we are as Nazarenes."
At first, only women attended the Bible study, but now most of the men attend as well.
"Our goal is to share the Good News with both the parents and the children, so that they might come to know Christ as their lord and savior," Annabelle said. "[We want] to disciple them so that they might grow in their faith, show them the love of Christ by serving their needs and the needs of their children, and build relationships with them."