Holistic community development legacy continues in Equatorial Guinea
by
| 12 Nov 2021
Image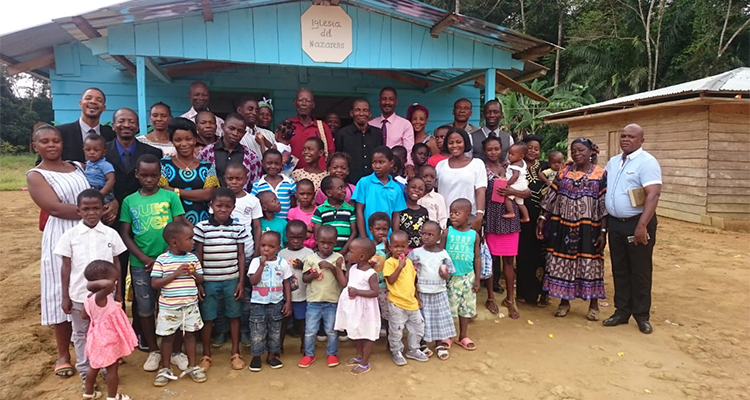 When Mario and Irma Martinez began their pioneering efforts for the Church of the Nazarene in Equatorial Guinea, they began a discipleship group that helped raise up the country's first district superintendent. 
Daniel Ncuna first heard of the Church of the Nazarene after his brother invited him to hear Mario preach. 
"The first sermon I heard was about Simon of Cyrene, the man who carried Jesus' cross," Ncuna said. "[Mario] talked about how research shows Simon was of African origin. It was a great sermon that impacted many of us who were there that day. Starting that day, I made a decision at a personal level to surrender my life to Jesus. But I didn't have an intention to serve either as a pastor or a leader in the church."
Ncuna began to attend the Martinezes' discipleship group, which was filled with other young people from the community. The Martinez couple not only poured into the lives of these young adults but also brought them along on their journeys from village to village, spreading the gospel across the country. 
When the Martinezes began to reach out to some of the more rural villages, they realized Spanish was less common. So Ncuna accompanied them to provide help with translation into the native tongue of Fang. Through these experiences, Ncuna began to receive a clearer picture of God's call on his life.
Ncuna met his wife, Mercedes, during his travels with Mario and Irma. The missionaries counseled them and helped them continue to pursue their call together. After Daniel and Mercedes were married, the couple began pastoring a small village church.
A few years later, Mario and Irma made arrangements for Daniel and Mercedes to travel to Argentina so Daniel could earn his degree at Nazarene Theological Seminary–Southern Cone. Daniel graduated with honors, and the couple returned to Equatorial Guinea, where they were ordained in 2013. In 2017, Daniel became the district's first native superintendent.
Mario and Irma believe education and discipleship are important elements of missionary work.
"The life of a missionary is a paradox in a way," Mario said. "You arrive in a country and you want to stay there for long and you shouldn't. You're not supposed to stay, because the biblical model is to reproduce yourself in others."
That replication occurs through a school of 1,100 current students from preschool to high school and through an agreement with NTS–Southern Cone that helps ministers from Equatorial Guinea earn bachelor's degrees.
"I hope to see a transformed country, [a country] that has been transformed by the gospel of Jesus Christ," Ncuna said. "A true transformation begins in the life of the people. That's why I believe in projects like education, discipleship, and teaching because a church that is in a community like ours and works in these social areas will be the hope and future of our country because there is a new generation that is hungry to know the truth."
"We understand that the gospel is holistic," Ncuna continued. "It's not a gospel of the words; we have to incarnate holiness in our communities. If we do that, the impact will never be stopped, and I believe our church has the potential to do that."