Indiana church wraps community in Christ's love through quilts
by
| 05 Nov 2021
Image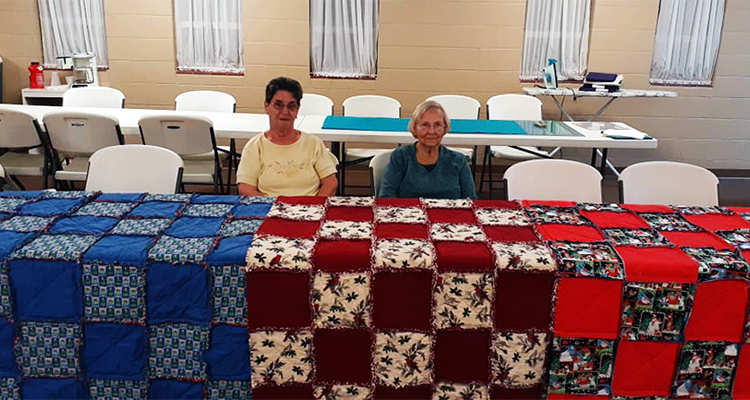 An Indiana church's quilting ministry has made roughly 300 quilts for its community members since the group started in 2016. These quilts are the church's way of "wrapping people in Christ's love" and the prayers of the congregation.
The Tell City Church of the Nazarene quilting ministry is led by Michelle Areson, who is the wife of lead pastor Charles Areson. The group meets weekly to make quilts for people who may be in the hospital, entering a nursing home, or encountering other health issues. The church's relationship with a nearby nursing home includes gifting any new person coming to the nursing home with a quilt from the church.
"It's a way to let people in the community know that there are people that care about what they're going through right now," Areson said. "We want them to know that people love them, and care about them, and are praying for them in this difficult time."
One recent recipient sent a note of gratitude to the church and the women of the quilting ministry: "Touched by your goodness, and lifted by your kindness. Thanks for the quilt, and all of the love and prayers."
Four women at the church, including Areson, are involved in making the quilts. Most of their supplies are donated items, money for supplies, and even quilting machines. One man would help by checking out yard sales for quilt materials.
When someone in the community or the church learns about anyone needing a quilt, the ladies invite the person to come and pick a desired piece. 
Areson modeled this ministry after a similar one that existed at a church they had attended in between ministry assignments. When their daughter was five years old, she had appendicitis and was hospitalized for surgery and recovery from the infection. The quilting ministry at Terre Haute Church of the Nazarene brought both her and her daughter a quilt each.
"When they brought one up for me, it just meant so much to me," Areson. "… and I was cold in the hospital when they brought me that quilt … I felt the warmth of the quilt, and the love and the prayers of the church going out for me, and that was just a very special thing for me."
Areson was involved in the ministry at Terre Haute Church of the Nazarene until they moved to Tell City, Indiana, where she continues the quilt-making and sharing ministry. She wants people to feel and know that the church is right alongside them as they go through tough times. 
"I wanted to be able to share that and do that for others. As a recipient, I know what the quilts mean to people when they're going through a rough time."