Look of Love special education ministry spreads across South America
by | 01 Mar 2019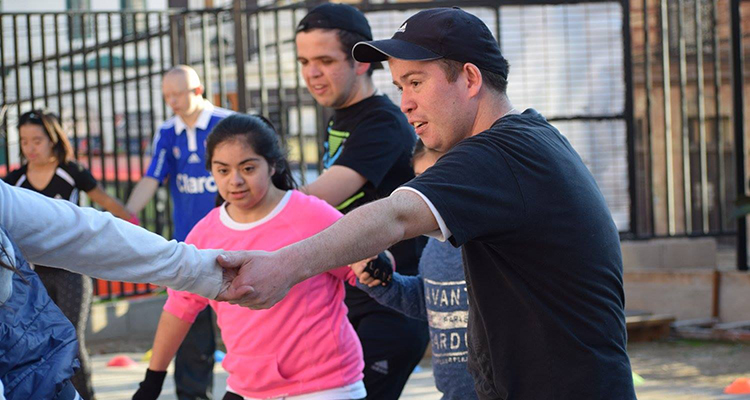 Look of Love, a special needs center in Valparaiso, Chile, is inspiring churches across the South America Region to start similar ministries.
The Chile Look of Love opened in 2013, led by pastors Lorena and René Noe with support from several partners. Chicago Heights Church of the Nazarene was one of the first, sending a Work & Witness team soon after the center launched to help build two rooms where the program would care for the kids. 
When W&W team leader Ken Silver saw the property for the first time, he said it would be best to sell the land and buy elsewhere as the terrain was too rugged to build anything on it. 
"We were sad to hear those words," Lorena said. "We wondered if selling the property was the best option. We thought we would be able to build only the church [and not the center]."
Silver returned to Chicago and after three months, he called Lorena and René to tell them he hadn't been able to sleep since his trip to Chile. He explained he would wake up in the middle of the night with Valparaiso on his mind. 
The Chicago church became a crucial partner over the years by flattening the terrain, pouring a cement foundation, and building a total of four rooms — two offices, a commercial-grade kitchen, and two bathrooms adapted for special needs individuals.
Nazarene Compassionate Ministries and Sunday School and Discipleship Ministries also played vital roles in the program's success. Many children who attend Look of Love are sponsored through NCM's Child Sponsorship program, and SDMI donated almost $15,000 through its Kids Reaching Kids offering. Look of Love also received government grants to hire personnel in the areas of nutrition, kinesiology, occupational therapy, and sports therapy. 
In 2014, a pastor from Brazil was so moved by what she saw after visiting Valparaiso that she wanted to replicate the ministry in her hometown. 
Two years later, Look of Love sent volunteer missionary Marcela Rojas to train a group of people in Morungaba, Brazil, and in 2017 Look of Love Morungaba officially opened. A year later, another Look of Love center opened in Atibaia, Brazil.
"The church in Natal, Brazil, sent a missionary to receive training for 50 days to Valparaiso," Lorena said. "This year we hope to open a center in Natal." 
Look of Love has also worked with people in Perú and El Salvador to open centers in those countries as well. 
"When the church started it was my husband, my daughter, and me," Lorena said. "Now we are 80, including families with disabilities. We dream that whenever there is a Church of the Nazarene, there is also a Look of Love type ministry."