Marangu announces retirement from Africa Nazarene University
by | 21 Apr 2017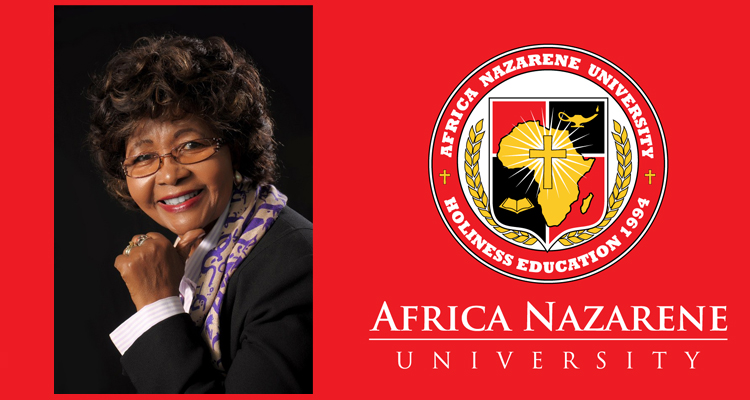 After 21 years of dedicated service to Africa Nazarene University, Vice Chancellor Leah T. Marangu is setting her sights on retirement.
During her tenure, the university grew in both student enrollment and academic and professional program offerings, increasing from 63 to nearly 4,000 students and from three to 46 programs in several disciplines. ANU has also increased its global footprint through the eNaz distance learning platform and strengthened its brand.
"Above all, Prof. Marangu has been keen to impart our values of character and the integrity of heart to all those who walked through the university doors in various capacities," said Filimao Chambo, Africa regional director for the Church of the Nazarene. "She has been intensely focused strategically, totally committed to maintaining and enhancing our university's stellar reputation in research, teaching and learning, character formation, and community outreach."
Marangu came to the position with a wealth of knowledge, experience, and expertise in university education, previously serving as a founding member at the Commission for Higher Education (now Commission for University Education); chair of the Department of Home Economics at Kenyatta University; chair of the Board of Directors at the Jomo Kenyatta Foundation; a member of the task force that created Egerton University, and the longest-serving Senate representative to Kenyatta University Council, where she served for 11 years after its inception.
"Vice Chancellor Marangu is an outstanding leader and has contributed significantly to the development of ANU and Global Nazarene Higher Education," said Dan Copp, commissioner of the denomination's International Board of Education. "I encourage our global Nazarene family to be praying for Professor Marangu, the ANU community, and the vice chancellor search process in this important time of transition."
As ANU's first female professor, Marangu remains a role model for women in academia and helped create career paths for women like Olive Mugenda, previous vice chancellor of Kenyatta University; Margaret Kobia, chair of the Public Service Commission, and several sitting deputy vice chancellors in Kenya today.
Marangu has been recognized globally for her efforts, receiving 20 national and international awards for leadership. She received two head of state commendations — the Silver Star of Kenya and the Moran of the order of the Burning Spear. Marangu was also awarded the Women Leadership Award by the World Women Leadership Congress & Awards in Mumbai, India, as well as the Global Peace Strengthening Family Award by Global Peace. In addition, she received the Maggie Sloan Crawford Role Model Award from Olivet Nazarene University for her efforts on issues related to women and girls.
Academically, Marangu is a Fulbright scholar, a visiting professor to 11 U.S. universities, a member of 27 international bodies, and author of 20 international publications and 46 featured articles. She was the first African to receive the Achievement Citation Award from Iowa State University and an honourary Doctor of Letters and the "O" award signifying outstanding alumni from Olivet Nazarene University. She is also an honourary alumna of Kenyatta University, where she was recognized for Professional Exemplary Service and Mentorship in the Advancement of Education.
The ANU Council and Board are grateful for Marangu's "outstanding, visionary, and wise leadership" and have initiated steps to ensure a smooth transition. The Council appointed a recruitment committee to lead the search process. The council continues its support of Marangu as she completes her tenure of service 31 October 2017.

To learn more about Africa Nazarene University and the vice chancellor search process, visit nazafrica.com/anuvc. ANU welcomes nominations for consideration.
--Africa Nazarene University