Missionaries accepted as family in foreign country
by | 28 Mar 2019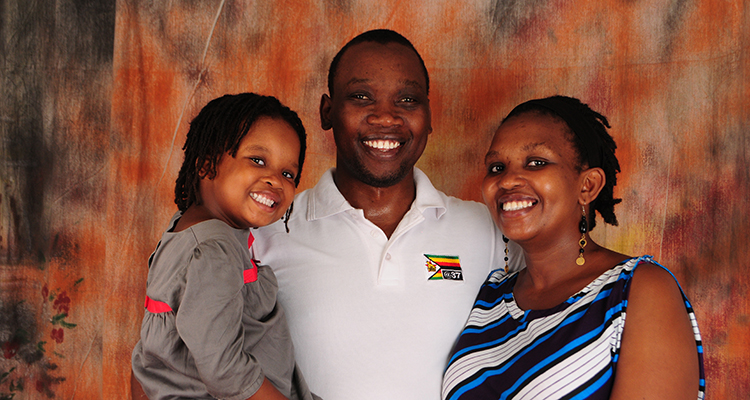 After years of fighting a call to missions, Njeri and Evans finally took a leap of faith in obedience to God. They left Kenya to serve as missionaries in Ghana, where God provided a new loving support system like the one they were reluctant to leave behind in their home country.
Njeri was always committed to supporting missions, specifically, other people in missions. She thought that if she just supported other people financially when they served cross-culturally, the small voice inside telling her to go would be satisfied. Being close to family was important to Njeri, so being a missionary far away just didn't seem like an option. 
Evans grew up in the Nazarene church in Zimbabwe and was involved in ministry from a distance. When Evans felt God calling him to be a pastor, Evans didn't believe he had what it took. But every time Evans denied God's call, God simply asked him to have faith and try.
Evans and Njeri met through college ministry activities in Kenya and were married nearly 10 years ago. Evans began serving at Africa Nazarene University as an assistant chaplain to the student body as well as associate pastor at University Church. 
During this time, God continued to speak to his heart telling him to go and serve in missions, but Njeri was not so sure. Why would God call them to leave the family that they relied upon so much for support and care? Would God really call them away from their community?
After three years in ministry at ANU, Evans continued to feel God's call toward missions, but he remained hesitant. 
"Lord, I'm already doing cross-cultural ministry," Evans said. "Here I am ministering to a diverse student body at Africa Nazarene University in a country not my own." 
God kept reminding him of the story of Ruth and Naomi, calling him to follow wherever God might lead him.
Finally, Evans and Njeri gave in and began training to serve as missionaries. When the time came, the church sent them to Ghana. 
During the transition phase, they were away from home and apart from family when Njeri became pregnant. 
"Lord, how am I going to care for my children without the help of my family?" Njeri prayed.
When their baby was born, a woman from church came to stay with them for a week to help watch the baby and their older daughter and to make sure Njeri was recovering well. Weeks later, church members continued calling to check in on them and to pray for Njeri and the baby's health. That's when Njeri knew that God had provided a family for them in Ghana.
Even though Njeri and Evans were foreigners, the church in Ghana welcomed them as family. As missionaries, they still see their family back in Kenya when they are on home assignment, but God has taken care of Evans and Njeri by giving them a familial community in Ghana.
As Evans and Njeri continue to serve as missionaries, God continues to shape and transform them into willing vessels.