Nazarene presence officially recognized in Curaçao
by | 17 Oct 2017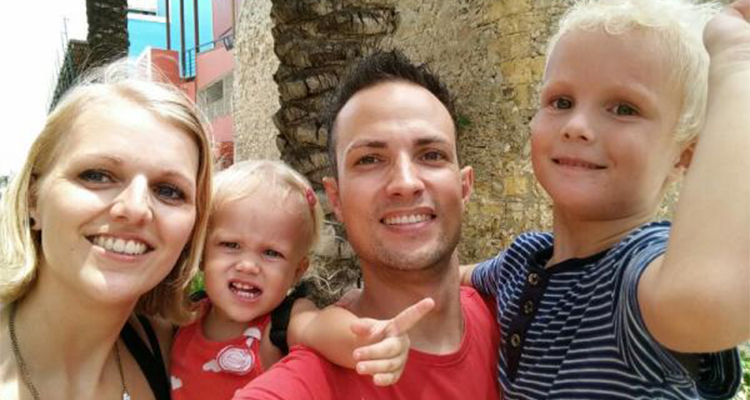 A young Dutch couple accepted the challenge of taking a new message of faith to a small Caribbean island with a mosaic of religious traditions and post-Christian secularism. As a result, this year the Church of the Nazarene officially recognized the presence of the Nazarene church on the island of Curaçao.
Jonathan and Lissett Petrus met each other in the south of the Netherlands and joined the Church of the Nazarene in the city of Breda. They were married there and experienced six years of gratifying involvement in the local church. Then they took jobs on the island of Curaçao, an independent country that is part of the Kingdom of the Netherlands. God blessed them with two beautiful children, Nathan and Talitha.
Even before they left their home country, Jonathan had felt God leading him into some kind of Christian ministry. That sense of calling never left him even after he moved his family to their new home away from Europe. A few years later, God clarified his calling when Nazarene visitors came to the island.
Leaders of the Nazarene church in the Caribbean, Central America, and Mexico (known as the Mesoamerica Region) in 2014 were exploring how to start Nazarene work in Curaçao. Nazarene Pastor David Gill from the Dominican Republic went to Curaçao for an artist's event and made some contacts. Missionary Bernie Slingerland later visited the island to follow-up with those contacts and made new ones. Nazarenes talked to each other from Mesoamerica to the Eurasia Region, and finally the Netherlands, and that's how they learned that there were Nazarenes – the Petrus family – already on the island.
When they reached out to him, Jonathan realized this was God's assignment for him.
Now for more than two years Jonathan and Lissett have been seeking ways of bringing the holiness message to this mixed-race population of 155,000 people. His goal is to move in a steady pace — as God directs and opens doors — while laying a solid foundation for a sustainable work. He has been working full time while establishing contacts, conducting discipleship and Bible study groups and, for a year, leading a Sunday morning worship service in their home. He reached out first to the Dutch-speaking population and is becoming acquainted with those who speak Papiamentu, a Portuguese, English, and Dutch Creole spoken in all levels of society.
Members of Crossroads Church of the Nazarene, in Maryland, USA, have made several visits to the island, engaging in projects that create goodwill and build relationships. Crossroads members Richard and Karen Brash are working closely with Jonathan and Lissett, and together registered the Church of the Nazarene in Curaçao as a part of GENESIS, the Mesoamerica Region initiative to start churches where there is little or no Nazarene presence. Former Pastor Kevin Hardy has a mentoring relationship with the fledgling church planter. Their faithful support is crucial.
"Christians on the island find it difficult to get away from mere form and into a personal relationship with Christ," Jonathan said. "But some are finding a new way, the way of holiness. I am able to say, 'Let me explain to you.'"
Jonathan has made friends with people who have many questions regarding traditional Christian practices, such as fasting.
"I tell them, 'God is looking at the heart, not just following some rules," Jonathan said. "He wants a personal relationship with you.'"
Through conversations like this, Jonathan has helped many find a more meaningful understanding of Christ. Some have joined his Bible study group; several attended the worship services in their home, while others have moved back to Holland. The challenge is to help people in a post-Christian culture to confront their own lack of faith and become open to allowing God to fill that void in their life.
To initiate these conversations, Jonathan follows a pattern taught by Michael Frost in his book Surprise the World: The Five Habits of Highly Missional People. Frost calls it BELLS: Bless, Eat, Listen, Learn, and Send. Jonathan says this low-key approach enables him to build relationships of trust that permit him to show a long-term interest in people who reveal a growing awareness of their need for spiritual reality.
Crossroads Church has recently increased its level of support, enabling Jonathan to work fewer hours at his job and devote more time to his studies and his ministry. The Maryland congregation is helping with the costs of his online studies with Nazarene Bible College, including sending textbooks to the island.
Brash reports that his church is planning two upcoming Work & Witness trips to the island, in January 2018 and the following summer.
"The plan is to build relationships with the people of the island," Brash said. "We will work alongside other organizations that serve people and be the hands and feet of Christ."
Next January a small team from Ellicott City will assist the local staff at a children's hospice. A larger team will go to the island the following summer to tile the floor in a children's pavilion that serves children with critical needs while ministering to those children.
These team efforts build new relationships through which they demonstrate to the island community that the Church of the Nazarene cares for them in spiritual and practical ways. The teams follow the words of Jesus in Matthew 25:35-40: "'For I was hungry and you gave me something to eat, I was thirsty and you gave me something to drink, I was a stranger and you invited me in, I needed clothes and you clothed me, I was sick and you looked after me, I was in prison and you came to visit me.' . . . The King will reply, 'Truly I tell you, whatever you did for one of the least of these brothers and sisters of mine, you did for me.'"
Jonathan's church is one that cares about people and reaches around the world to bring healing and the Good News of the gospel message. The island work is steady, with seeds of witness and faith already planted, saving the lives of people choosing to follow Jesus.