Nazarenes in Lebanon respond to economic crisis
by
| 12 Aug 2021
Image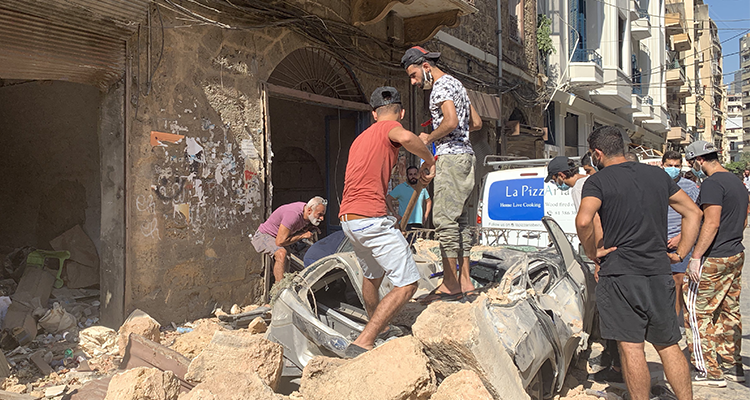 In August 2020, a massive explosion devastated the port of Beirut in Lebanon, killing more than 200 people, injuring thousands, and displacing tens of thousands. Now, a year after the explosion, an ongoing economic crisis that started in 2019 has reached a breaking point.
Basic necessities cost 10 times more than they used to, and there are critical shortages of medicine, gasoline, and electricity. In May 2020, the United Nations reported that the number of people living in poverty had doubled since the year prior. Today, that number is even higher.
For five decades, a Nazarene school and several Nazarene churches have been serving those in Lebanon. The school has provided education to both Lebanese students and those living as refugees from Syria. In the aftermath of the explosion and during the economic crisis, the school has also supported parents' mental health. 
"We have witnessed distinct people with rare kindness," one mother said. "During the lockdown, we were able to contact them at any time. They were so friendly."
Andrew Salameh is the pastor of a Nazarene church that partners closely with those in the neighborhood. For years, they have opened the church to provide meals and food staples, clothing, and medical and mental health care. 
"We are blessed that the Lord is providing for us all these resources to help people," he said.
Learn more in the video below. 
Download this video in English, Spanish, or any of six other languages here.
Read more about the compassionate work of the Nazarene school and church programs in Lebanon in NCM Magazine. 
How You Can Help
Pray
Pray for those who are hungry and hurting. Pray for those who lost loved ones during the pandemic, explosion, and in struggles during the economic crisis. Pray for those who are trying to find medical care for their loved ones or buy food for their families. Pray for those who are most vulnerable during crises, especially senior adults, individuals with disabilities, and people living in poverty. To send a prayer or note of encouragement, go to ncm.org/pray.
Give
Churches and individuals around the world can provide support through the Lebanon Crisis Response. Donations will be used for immediate health needs.
To send donations by mail:
In the U.S., make checks payable to "General Treasurer" and send them to: 
Global Treasury Services
Church of the Nazarene
P.O. Box 843116
Kansas City, MO 64184-3116

Be sure to put 135318 in the Memo area.
In Canada, make checks payable to "Church of the Nazarene Canada" and send them to:
Church of the Nazarene Canada
3657 Ponytrail Drive, Mississauga, ON | L4X 1W5

Be sure to put 135318 in the Memo area.
For any other country, give through your local church or district, designating your gift to Lebanon Crisis Response.