Trinidad and Tobago NMI rally challenges attendees to answer God's call
by
| 08 Oct 2021
Image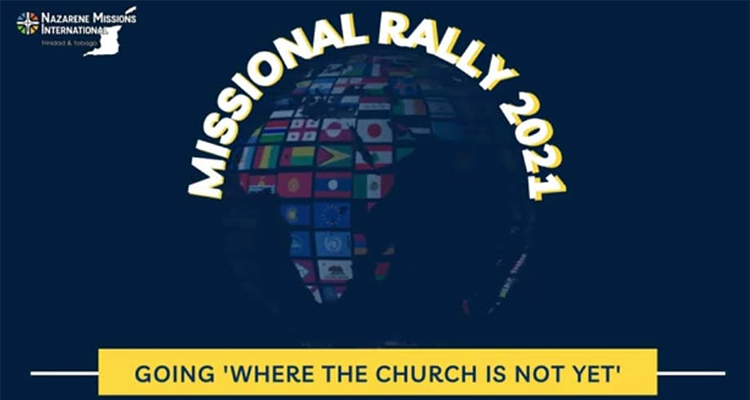 The Trinidad and Tobago District Nazarene Missions International Council hosted its first virtual missional rally under the theme "Going Where the Church is Not Yet" on 19 September.
The rally encouraged attendees to celebrate the Church of the Nazarene's legacy of pioneering churches in new areas. Speakers challenged participants to say yes to God's call to go and carry the gospel to the places where the church is not yet as outlined in Matthew 9:37-38.
The NMI council created three different videos. The first video, The Celebration, shared the work of three pioneer missionaries to Peru, Africa, and India. Their stories were taken from the 2020 NMI reading books. The second video, The Challenge, highlighted the Genesis program and the spiritual harvest in urban areas and among unreached people groups. The program extended a challenge to all who might sense God's call to missions to say yes. The third video, The Case, highlighted the birth of the newest organized church on the district, Oropune Community Church of the Nazarene.
Fazim Gyan, lead pastor of Oropune Community Church, preached a message about the need for Christ's disciples to be compassionate, prayerful, and obedient to the call to go.
The district NMI council also took the opportunity to pay public tribute to former District NMI President Leonard Grant for his 23 years of committed service to the district NMI in various capacities. 
Tributes poured in from two former district NMI presidents, Donnamie Ali and Marcia Quimby, former District NMI Secretary Pearl Harris, District Superintendent Victor George, and District NMI President Leigh Hope.
"This missional rally was a combination of vital historical details, recognition of exemplary service, and encouragement to become part of God's army in different ways that included most of all reaching where the church was not yet," Ali said. "Bringing everything together was an excellent use of modern technology. Hats off to Leigh Hope, T&T District NMI president, and her team."
According to YouTube statistics, 206 unique households logged in to view the live broadcast. 
Click here to view the rally on YouTube.